LTS Syrstad Complete Short Salmon (SCSS) & Tips

---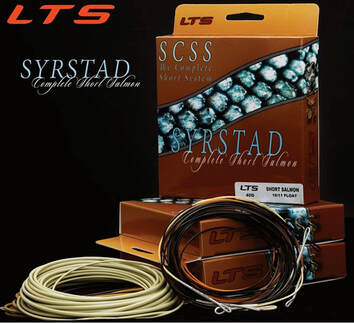 LTS Syrstad Complete Short Salmon (SCSS) & Tips
The new LTS SCSS line and tips is the little brother of the LTS SCS lines and tip. The LTS SCSS lines and tips are designed for fishing smaller rivers and tighter casting situations. Made for easy casting and far reaching fishing for salmon and steelhead.
The different tapered 8Ft tips have approximately equal weight, regardless of the sink rate, available in Float, Intermediate, Sink 3, sink6 . The delicate tapering allows a silky smooth presentation, even with the use of short leader or tippet (3-5ft of regular tippet material is sufficient)
Box includes the SCSS head looped at both ends.

---
LTS Syrstad Complete Short Salmon Tips
Price: $34.95 each
Tip Length: 8'

Available in:
Float, Intermediate, S3, S6


---


Copyright 2019, Fish On! Sports. All rights reserved.