LTS Double Hand Rods - Explosive Light Series
---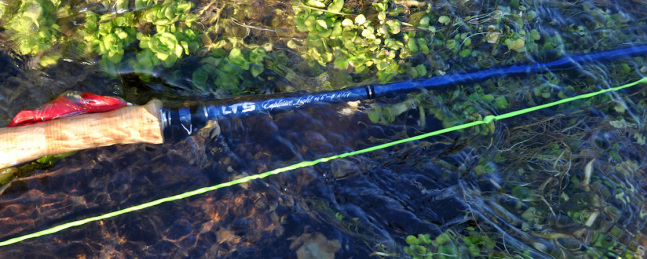 LTS's newest Explosive Light 6/7wt 12ft6 spey rod is specially designed for steelhead fishing!

Built for extremely high line speed with the unique LTS "catapult" action at the rod tip to make long cast with very little effort, and great lifting power.

This rod bends deep into the butt section to cast perfectly with Skagit lines and Scandinavian shooting heads, and extremly light so you can enjoy fishing all day without getting tired!
The rod quality and attractive cobalt blue and silver color will undoubtedly make you stand out in the crowds, and the way the rod performs will turn some heads!
Casts long distances with great turnover when paired with the triple density LTS Short Speedline or LTS III-S triple density in 6/7 or 7/8 Wt integrated Scandinavian shooting heads, or Skagit lines around 380 - 480 grains.
Lightweight down lock aluminum reel seat
Chrome snake guides
Sic stripping guides
High-grade cork handle
Rod model inscription and dot mark on ferrules for correct alignment on rod sections.
Comes in cloth bag and pentagon shaped Cordura tube.

---

LTS Explosive Light Travel Spey Rod
The new LTS Explosive Light 13ft6 9/10wt is now available in a 6pc travel rod, amazingly powerful and perfect for flying to fishing destinations all around the world.


LTS Explosive Light Travel Spey Rod
13ft6" 6pc in 9/10wt Price: $799.00
Tube length: 32in
Total weight: 1lb 12oz.

Copyright 2015-2016, Fish On! Sports. All rights reserved,